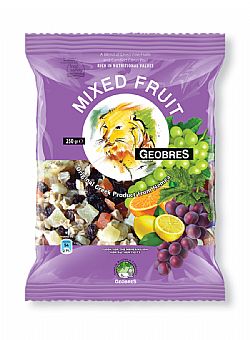 Dried Mixed Fruit + citrus peel

Ready Washed and Glazed -  A blend of sultanas, raisins, currants, and candied peel
Weight: 12.5kg e            Shelf – Life: 12 Months
 
Product Description

The product shall consist of a mixture of sultanas, raisins and currants, mixed with candied citrus peel.
The product shall have a muliticoloured appearance from blue/black Corinthian currants, mid-brown sultanas, dark brown raisins, orange and yellow peel.
The product shall have a sweet overall flavour with citrus notes coming from the peel.
The texture shall vary from fleshy fruit and citrus peel and sticky glacé cherries. The product shall be packed in a poly  bag within a Geobres carton box.

Unacceptable Defects

Presence of GM ingredients, derivatives or carriers contrary to European food legislations. 
Uncharacteristic flavours, taints or odours foreign to the product which are present or may develop during its specified shelf life.
Absence of or incorrect ingredients
Irradiation of any raw material, intermediates or finished product
Absence of coding, illegible or incorrect coding.
Damaged/deformed packs.  Incomplete/inadequate seals. 
Foreign matter, insects, insect fragments, insect damage or evidence of infestation, objectionable adventitious matter, any injurious substances.
Damaged or immature fruit as per physical parameters.
Defects as listed under physical parameters.